With COVID-19 cases on the rise, we all need to play our part to stop the spread, even when we're on vacation. Staying in a tourist destination means you'll be interacting with people from all over, so it's best to do what you can to make sure you and your family are safe while still enjoying the beach! On this week's blog, we'll be giving you ways that you can still have a great time on vacation, while still being aware of your surroundings and being socially responsible!
---
Keep Your Masks Nearby!
While there are currently no mandatory mask mandates in place here, it is inevitable that you will be near a lot of people while staying at the beach. If you find yourself in the middle of a crowd, keep your mask on hand to help prevent the spread of germs!
Rent Jet Skis from Tidal Wave Water Sports​
​
​Water Sports have always been popular on Isle of Palms, but are also a great opportunity to stay active and have some fun in the sun while also social distancing! Tidal Wave has a jet ski safari that shows you the ins and outs of the local waterways, as well as offering rentals so you can explore on your own. They have also recently gotten an entirely new fleet of Sea-Doo jet skis, so you'll be using brand new equipment!
Book ahead by phone, or visit their website: https://www.tidalwavewatersports.com
Bike Rides Around the Island from IOP Beach Chair Co.​
What better way to feel the coastal breeze than to bike around the Island? IOP Beach Chair Co. offers more than just beach chairs and umbrella rentals--you can also rent bikes! Rent by the week and have them delivered to your door, or stop by their shop on Palm Blvd. to rent by the day. Palm Blvd. has a bike lane so you can stay safe on the road, and the side streets stay fairly quiet so you can have a peaceful bike ride while looking at all of the beautiful homes and scenery. Paddleboards and beach wheelchairs are available too!
Book by phone or on the IOP Beach Chair website: https://iopbeachchair.com
Walk the Beach or Lounge!
Enjoy the sound of the waves, collect some shells, and make some memories while staying safe during your time on the beach. To stay extra safe, try to distance yourself from other groups!
Rent a Kayak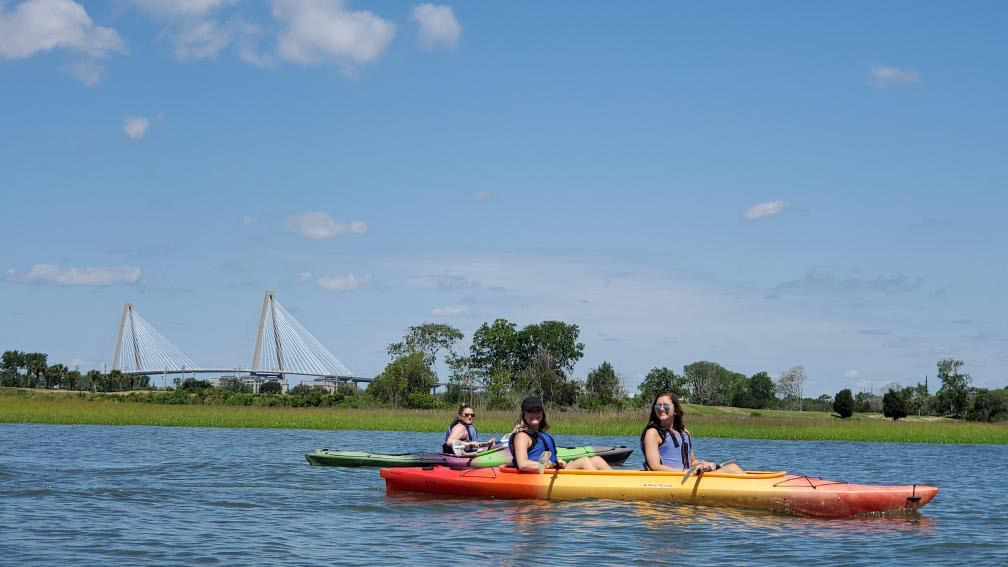 ​For those that want to be on the water at a slower pace, kayak rentals are a great way to do so! The great thing about water sport activities during this time is that you can participate in a group or solo, and either way you will be practicing social distancing while not even noticing. The Isle of Palms and the rest of the Charleston area is in such a great environment that's suitable for a social distancing lifestyle, and does not leave you out of having a great time.
Nature Adventures (Shem Creek). TIP: When booking your tour or rentals, make sure you do so in advance!
Enjoy the Local Cuisine
​Many restaurants on Isle of Palms, Sullivan's Island, and Mount Pleasant are offering takeout, delivery, and outdoor dining options in addition to indoor dining to accommodate during these times. If possible, try to utilize options like takeout and distanced outdoor seating to avoid crowds!
We hope that this gave you some inspiration for your next stay on the Island!
Sea You Soon!