When you're traveling to a new place, it's easy to rely on familiar options from home where you know what to expect.
Stopping at a fast-food joint for a quick lunch, staying at a hotel chain close by, or stocking up on snacks before leaving home can be habits we fall back on, but there are other options to make your vacation that much better!
This week, we're giving you local alternatives to popular vacation habits to ensure your next trip to the Island is the best one yet!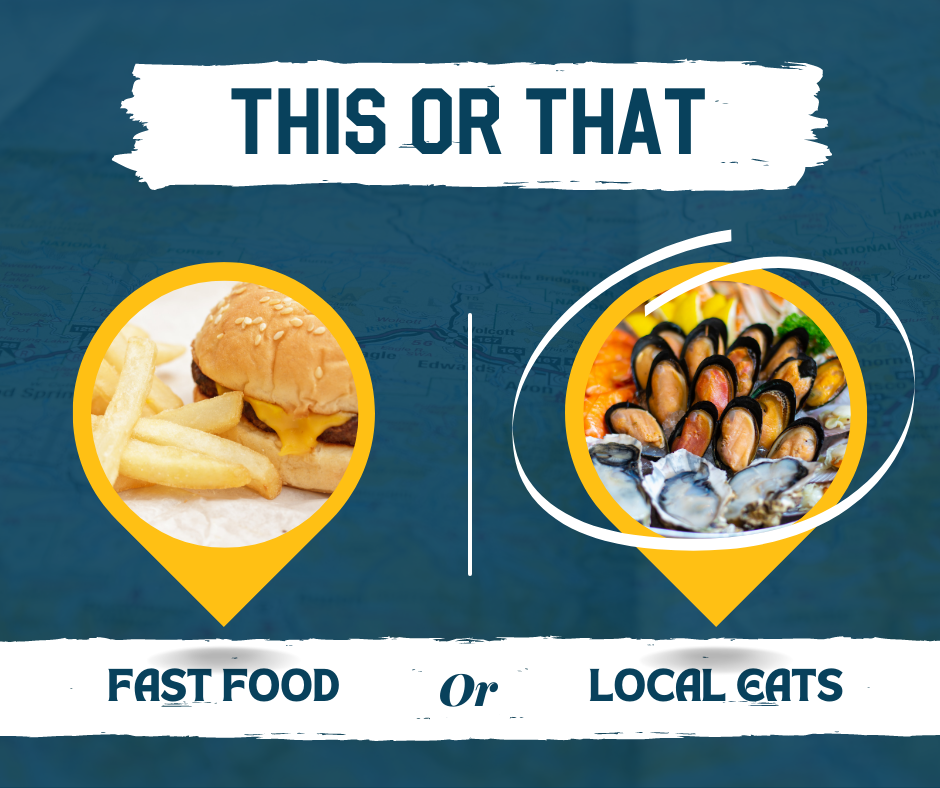 instead of fast food, try a local restaurant
Stopping for fast food can be a quick and easy option on your way to the Island, but then you're experiencing the same food you most likely have at home! Charleston is a city known for its diverse cuisine, with many locally-owned restaurants that fit all budgets and tastes. While these places may not always be as quick, they will certainly be more delicious and support small businesses!
Some of our favorites on Isle of Palms are:

The Co-Op (on Sullivan's Island and Isle of Palms)--A great spot for breakfast and sandwiches at lunchtime. On Tuesdays, get there early for their In-n-Out style burgers and fries.
Luke n' Ollies--A crowd-pleaser for pizza lovers everywhere.
Papi's Taqueria--Nothing says beach vacation like oceanfront tacos! Papi's caters to several different dietary preferences/restrictions, and has a rooftop deck.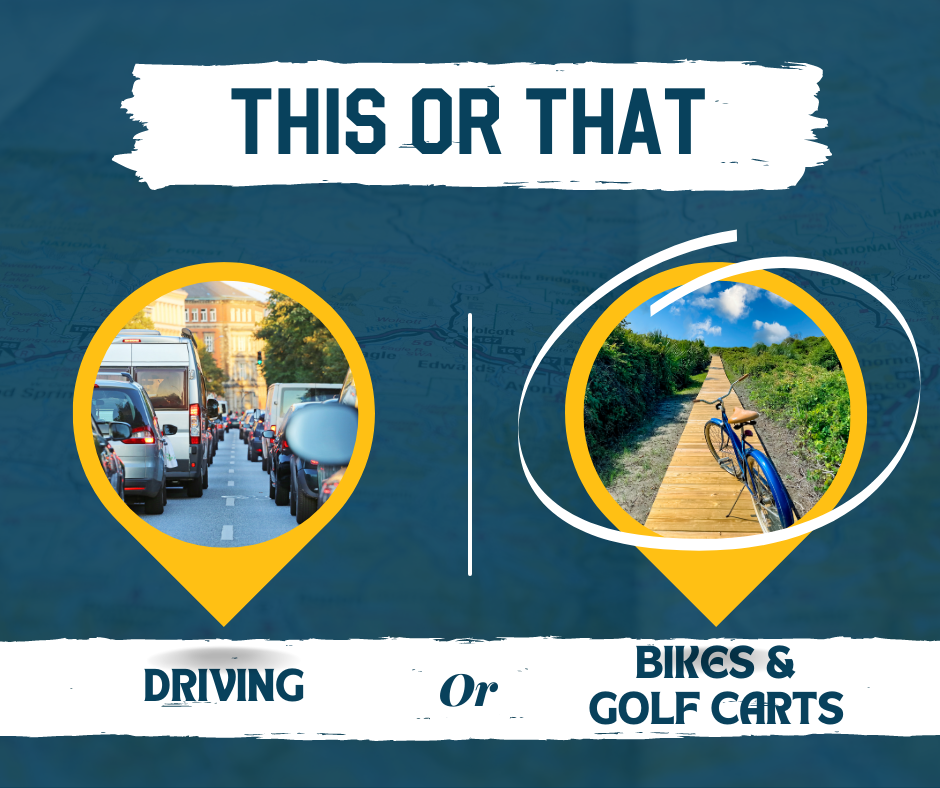 Instead of Driving, Try Alternative Transportation
While parking can be a little more difficult to find, we are fortunate to be on an island that caters itself to alternative modes of transportation! The Isle of Palms is only about 6 miles long, so there are many ways to get around that don't involve packing everyone in your car!
Try these options instead:
Bikes: Whether you're bringing your own from home or having them delivered to your rental (by IOP Beach Chair Company), bikes are a great option for getting around town. Many businesses and beach accesses have bike racks for you to keep them safe, and it's a great way to get exercise, too!
Golf carts: Toting chairs and bags down to the beach? No problem! Golf carts are an easy way to carry all your belongings, without having to struggle to find a place to park the van or SUV. There are designated golf cart parking spaces on the Island, and several different rental companies to choose from! (Some of our favorite local companies are GolfCart.Fun, Just Beachy Carts, and Lightning Bugz!). If you're visiting on a peak week, be sure to reserve your cart in advance; they WILL sell out!
Rideshare: If using a car is necessary, try using a ride-share service like Uber or Lyft. Not only will you not have to worry about parking, but it's also more eco-friendly!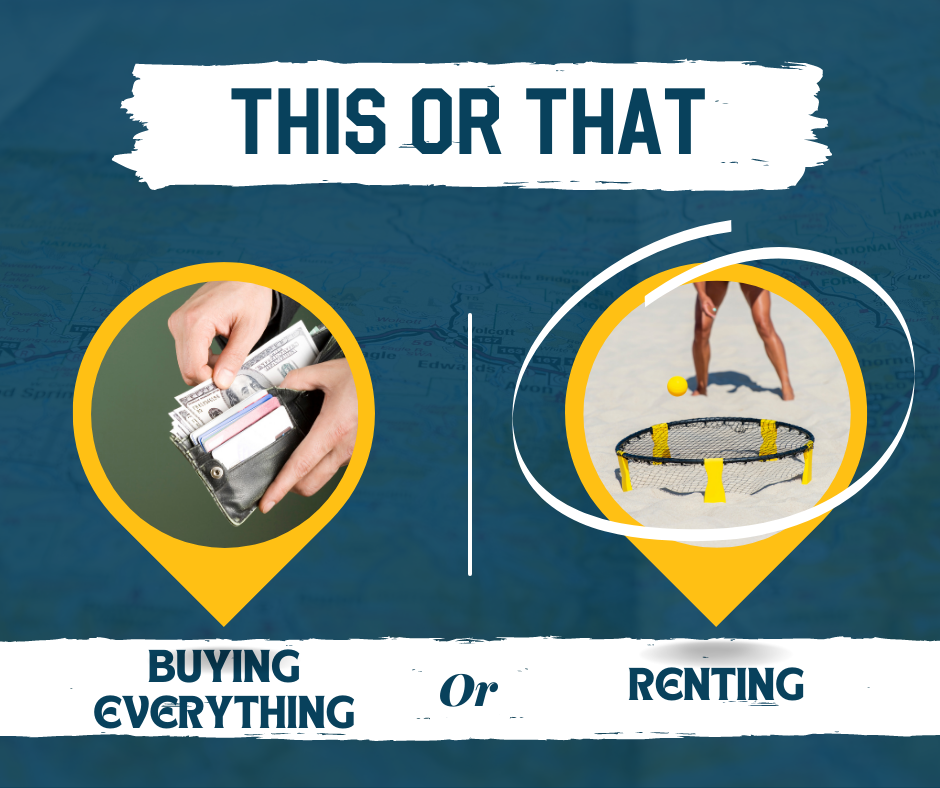 instead of splurging on beach items you'll never use again, try renting them during your stay!
When you're getting ready to leave to come to the Island, there's probably a long packing list that you're going over at least twice to make sure you don't forget anything. To save room in your car and ensure that you're not forgetting anything, try renting your beach necessities from a local business. Most will even deliver straight to your property rental!
If you're looking for beach chairs and umbrellas, IOP Beach Chair Company is our go-to. Rent everything from umbrellas and chairs to sand-friendly wheelchairs. If you let them know where you'll be ahead of time, they'll even set up your chairs and umbrellas for you!
To entertain your kids (or your kid at heart), Charleston Baby's Away / Beach Games to Go has everything you could ever want for the perfect day under the sun. From Bocce to Baggo and everything in between, you can't go wrong renting fun for the whole family! Let them know you're staying with Island Realty and your items will be waiting at your property when you arrive.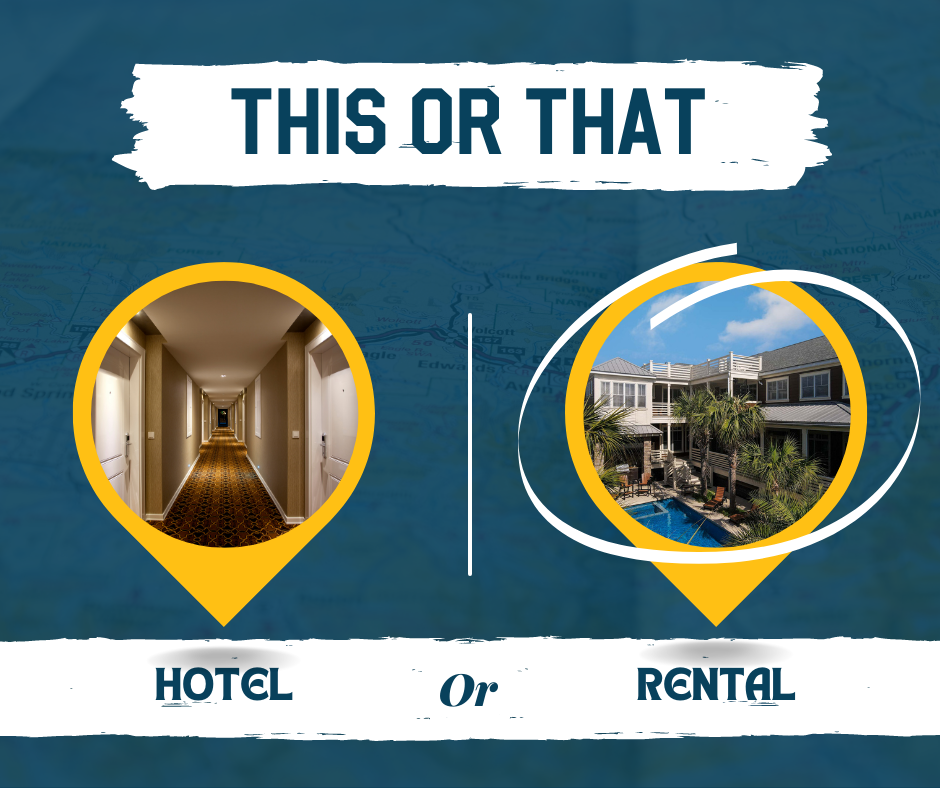 Instead of a hotel, try a vacation rental!
Hotels are often seen as a reliable choice, but they can also come with issues like overbooking, excess fees, and not always having the amenities you're looking for.
Vacation rentals, especially those on our rental program, offer a wide variety of sizes, and types (houses, apartments, and condos) and often have added amenities that aren't offered in hotels like private pools just for your family, entertainment options like TVs with streaming capabilities, and best of all you get a room to yourself!
Learn more about why vacation rentals are the better option here:
We hope these alternatives provided you with inspiration for your next trip to IOP! If you still haven't booked your stay for this Summer, browse our site or call in to get your vacation booked today!