Published on 8/10/22 by Jessie Jacob
How to be a responsible beachgoer during nesting season.
If you're visiting the Charleston area from far away, chances are you don't have much experience with sea turtles. When I first moved here from Chicago, the only place I had seen them before was the Shedd Aquarium! However, when you decide to spend your summer on the South Carolina coast, chances are you will stumble upon a turtle nest at some point. It's important to know some ground rules to keep both yourself and the turtles safe when you do.
In the Charleston area, sea turtles will nest on the beach from early May all the way through mid-August (which means the eggs won't hatch until probably October). If you have been to our beaches before, chances are you have seen a nest marked off by a bright orange sign! That's because all seven species of sea turtles are classified as threatened or endangered and are protected by both Federal and Local laws. However, we typically only see Loggerheads on our SC beaches. Isle of Palms and Sullivan's Island get, on average, a combined total of 30-60 Loggerhead nests in a season (and with ~120 eggs in each nest, that's a lot of hatchlings!).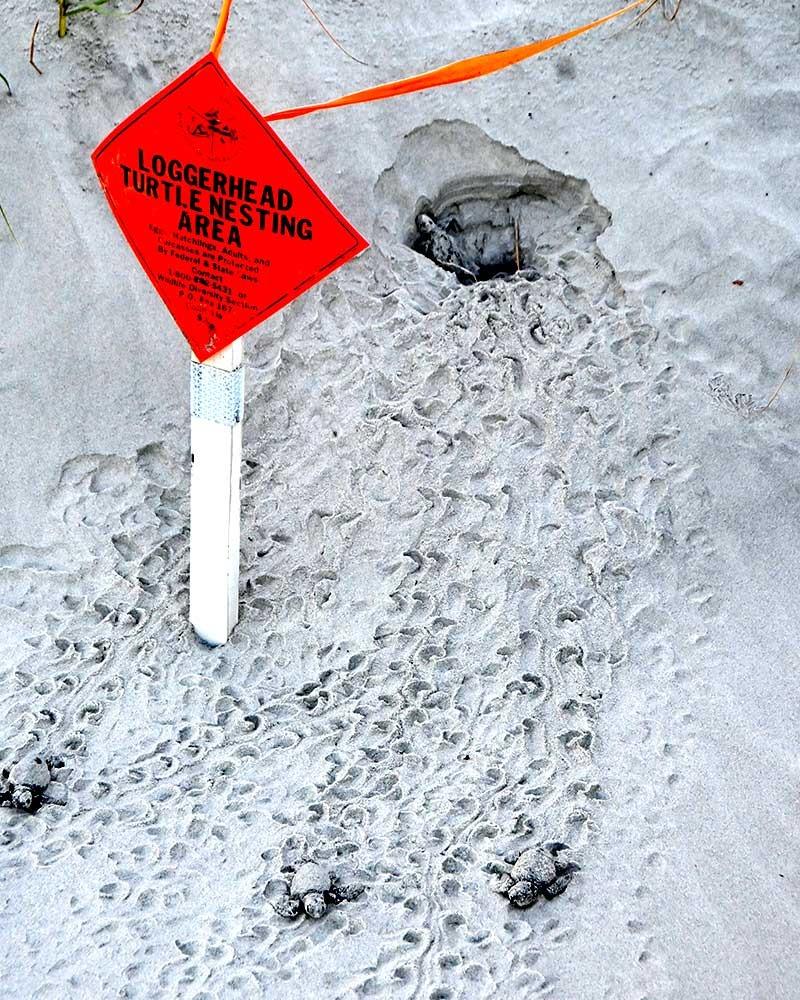 The Island Turtle Team is in charge of monitoring the turtles (and making sure people are educated and stay away from the nests) on Sullvan's Island and Isle of Palms. They walk the beach at sunrise looking for turtle tracks, and report the location of any nests they may find. A member of the team, certified by SCDNR (South Carolina Department of Natural Resources), will decide if the nest is in a safe spot or if it is in danger of being washed out to sea or hit by a storm surge. If the nest is in danger, the volunteers will carefully relocate it to a safer location.
Although the Island Turtle Team does a lot for South Carolina's sea turtles, beachgoers need to do their part as well. While you are out enjoying the beach, be on the lookout for turtle tracks. If someone has drawn a large X through the tracks, it means that they have already been reported. If you are unsure? Call the Island Turtle Team (843-885-4148) just to be safe! If you ever come across an injured or dead sea turtle, report it to SCDNR (1-800-922-5431). Lots of useful information can be gained from these sad circumstances, like if boat laws need to be changed, or if the turtles are becoming sick from something in the water; plus Injured turtles may have a chance to be rehabbed at the SC Aquarium Care Center. Sandcastles and moats are fun entertainment on the beach, but please take your pictures and then fill in the holes and trenches. Sea turtles do not have the ability to back up or the strength to climb out of holes without help. Oftentimes, hatchlings (and sometimes even adult nesting females) can be flipped or trapped in a hole. Beachgoers should NOT attempt to aid these turtles, leave them be and call the Island Turtle Team. Above all, protect the marked nests. Walking on the nest can crush the eggs in the chamber below. If you are on a pet-friendly beach, make sure to keep your four-legged friend away from the nest at all times!
There are laws protecting sea turtles that exist off of the beach as well. If you are lucky enough to be staying in an ocean-front property, here are some things you need to know. Both nesting mommas and hatchlings are negatively affected by artificial lighting (like street lamps, flashlights, and more). Nesting sea turtles will often avoid brightly lit beaches all together, while hatchlings who are typically born at night get disoriented and will travel the wrong way, moving towards your home instead of the ocean. Because this was such a big problem, our beaches took into effect a local ordinance forbidding lights that can be seen from the beach at night. You are welcome to stay up watching your favorite movies or playing board games in your amazing rental, but be sure to always draw the curtains when it starts to get dark. Keep up with local ordinances protecting sea turtles by county and municipality HERE.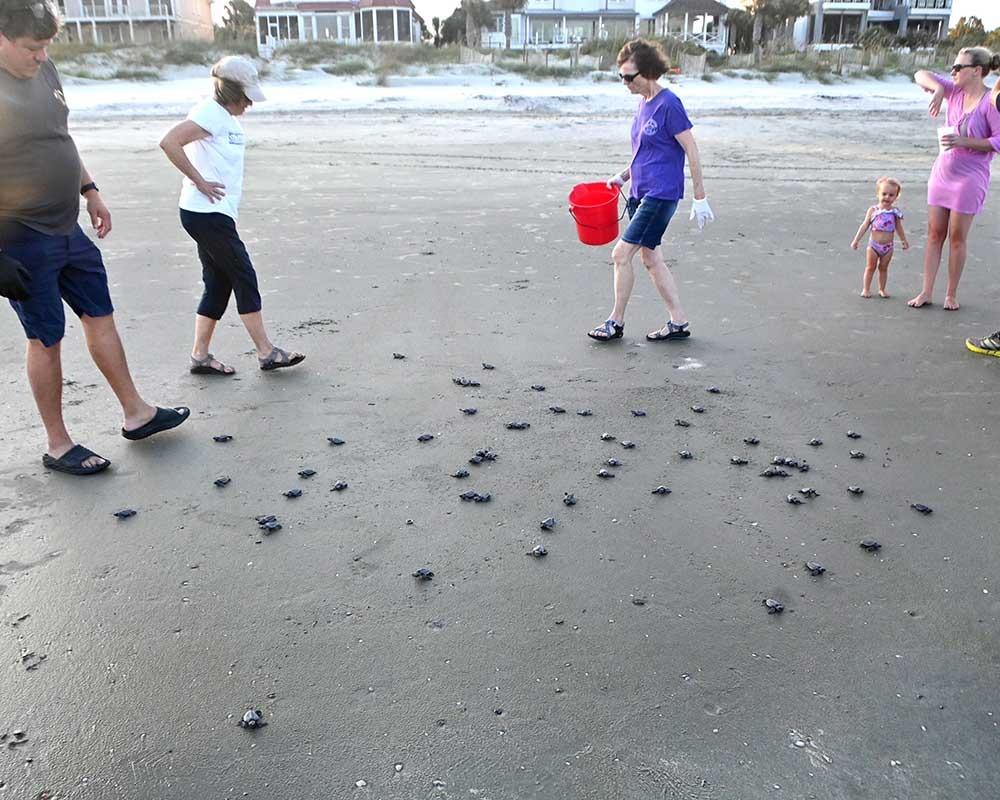 If you're a sea turtle lover like the locals here on the islands, and you want to know more and do your part, there are plenty more things you can do. Head down to the Charleston Aquarium. Not only is it a wonderful place to learn about the waters around us, but it is also where the SC Aquarium Care Center is located. There is a vet's office setup where kids can diagnose and treat an interactive sea turtle game while being surrounded by a whole wall of windows allowing an up close and personal view of the real life turtles being treated by the care center. If your kids are older, you can walk through the halls and learn about the history of sea turtles in the area and get a more in-depth look at conservation efforts. If you are vacationing with us during nesting season, the Folly Beach Turtle Watch program (kind of like the Island Turtle Team but for the Folly Beach area) has an incredibly active social media page where they post every time they plan to go out and inventory or excavate a nest so that members of the public can come and watch!
If you're a South Carolina resident, you have a few more options. If you need new tags for your car, consider getting the Endangered Species Sea Turtle Specialty License Plate. It costs $30 every two years in addition to your normal registration fee and those funds go directly to SCDNR to conserve and protect our state's endangered and threatened species. Similarly, you can Check-Off for Wildlife when completing your tax returns. Help SCDNR keep wildlife in your life by checking off your contribution to the Endangered Wildlife fund during the tax season. Plus, you may have noticed a new proposed ban that may be coming to IOP beaches soon. This ban proposes barring metal shovels, limiting the size of holes and requiring those responsible to refill them before leaving the beach. This could be a huge game changer for sea turtles trying to nest on our beaches, and similar bans have already been put in place by beaches up and down the SC coast. And of course, if all else fails, anyone and everyone is welcome to donate (tax deductible) directly to the program. Donations can be sent to: SCDNR Sea Turtle Program, PO Box 12559 Charleston, SC 29412.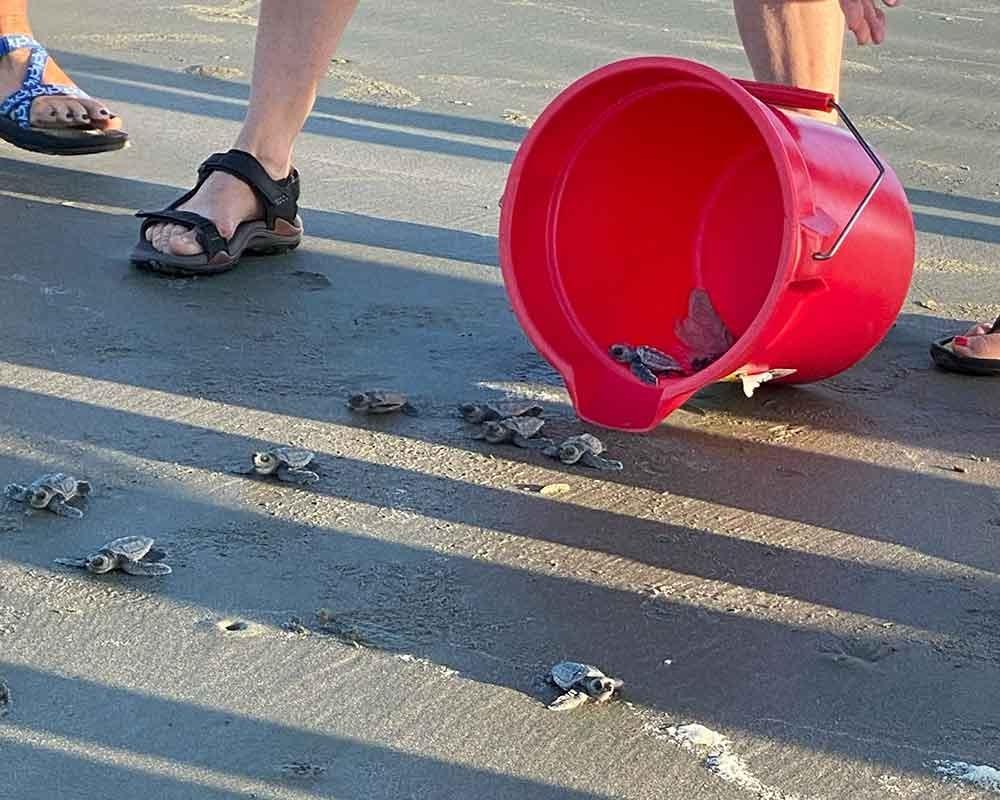 Whether you are coming from an hour away, or all the way across the world, it's important to learn to love the sea turtles the way we do here. We want these gentle giants to be around for years to come, and we all have to do our part to make sure that happens!
*Many thanks to the Island Turtle Team and SCDNR for the 2022 Sea Turtle Statistics and photos!