About a week ago, deep sea fishing fell somewhere in a category alongside bungee jumping and driving a NASCAR car for me. You know, the "this would probably be cool, but also terrifying, but still cool, but I would definitely be bad at it, and how would I even get the chance to do that anyway" category of things.
I'd never fished once in my life, not in the ocean, not in a lake, not in a stream behind my house. So you can imagine my surprise – and probably my initial angst – when I was told I would be heading out to the Gulf Stream to go deep sea fishing with our long-time Island Realty partner, Captain Tim Mullins.
I had two days to prepare.
Motion-sickness medicine, just in case? Check. Google 'what is an appropriate fishing outfit' and subsequently pick one out? Check. Cooler full of ice to bring home the fish I was sure I wouldn't catch? Check, but I was sure I had jinxed myself.

(FYI, both appropriate fishing outfits.)
I drove over to the dock at 6:30 Friday morning, ready to meet up with Captain Tim and the rest of my team and face my fate.
Eight hours, two dolphin-pod sightings, and a boat full of fish later, we returned to the dock triumphant. I had personally caught four fish. Others on the boat with me caught closer to ten, but who's counting.
We started the trip out to sea by going just off the shore to catch bait fish. Captain Tim took the lead on this one, as he seems to have a sixth sense for just where to throw the net at any given moment to catch our bait. After we had secured the bait fish, it was time to head out to our final destination. In my mind, it was the middle of the ocean. In reality, it was only about an hour and a half away from land.

(Captain Tim catching our bait.)
The air grew steadily warmer as we sped out to the Gulf Stream. We could not have asked for a more beautiful, cloudless day. We reached our first fishing spot and Captain Tim baited two rods and dropped the lines into the water. Maybe thirty seconds later, we got our first bite: a huge amberjack that put up quite the fight.
As one-by-one the rest of my team reeled in huge fish after huge fish, I started thinking "this is kind of fun! I get to hang out in the sunshine and everyone is happy! And nobody has made me actually try to fish!" But suddenly, Captain Tim handed me a fishing rod and said "your turn."
I caught the very first fish I ever tried reeling in!
Just kidding. I fought with it for ten minutes and ended up breaking the line.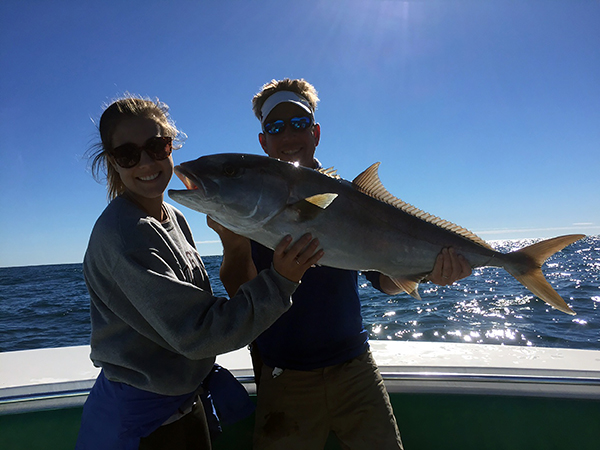 (Kaitlin with a giant amberjack.)
But I DID catch the second fish! Another amberjack! Forget what I was saying about it being fun to just watch, catching a fish is a rush and a blast.
Then it was time to bottom-fish. We hit about four Captain-Tim-approved fishing holes and caught a ton of vermillion snapper, sea bass, and trigger fish.

(Amanda reeling in something exciting.)
All of us were begging Captain Tim to let us stay out for just one more round when he told us it was time to head back into the dock. His spidey-senses (or possibly his actual, legitimate radar) were telling him there was a storm off-shore that would be hitting us soon if we didn't head back in. Who were we to argue with the man who seemingly understands the ocean better than Poseidon himself?
To say I was beaming at the dock as Captain Tim cleaned and fileted our bounty would be an understatement.
It was one of the most exhilarating experiences of my life. From the journey out to the Gulf Stream, watching the land fade away in the distance, to the camaraderie that comes from celebrating everyone's first catch, this is an opportunity not to be missed.
Deep sea fishing and Gulf Stream fishing are year round options here in sunny South Carolina, as are inshore and nearshore. Being out on the water in the middle of November watching dolphins play in your wake is a pretty fantastic way to usher in the winter if you ask me, but no matter when you go you're guaranteed to have a great time.
A fishing trip will satisfy those in your party looking for high-octane thrills, just as it will those of you who want to bask in the sunshine and enjoy the beauty of the South Carolina water.
Island Realty has had a long relationship with Captain Tim and his crew at Marsh View Fishing Charters and I cannot recommend him highly enough. From the expert fishers we had on board to those of us (okay, me) that were initially terrified, Captain Tim knew just what to say and do to make us have the most enjoyable, safe, and ultimately fruitful (or fishful) experience. He took care of us.
The benefit of booking your vacation through Island Realty is the same as the benefit of going on a fishing adventure with Captain Tim. We'll take care of you. Tell us what you want and we can make it happen. If your bachelor party wants an eight-hour fishing trip with Captain Tim and a property with a private dock so you can eat your catch in style, we can do that. If your family wants an inshore fishing package and an award-winning private chef to cook your fish for you in the comfort of your vacation home, we can do that, too. Contact our team of vacation planners or the concierge and say the word.
I'm still not sure about the NASCAR driving, but I am proud to say I checked deep sea fishing off my list and you should, too.
PS you don't have to invite me on your fishing trip, but if you do, I'll definitely say yes.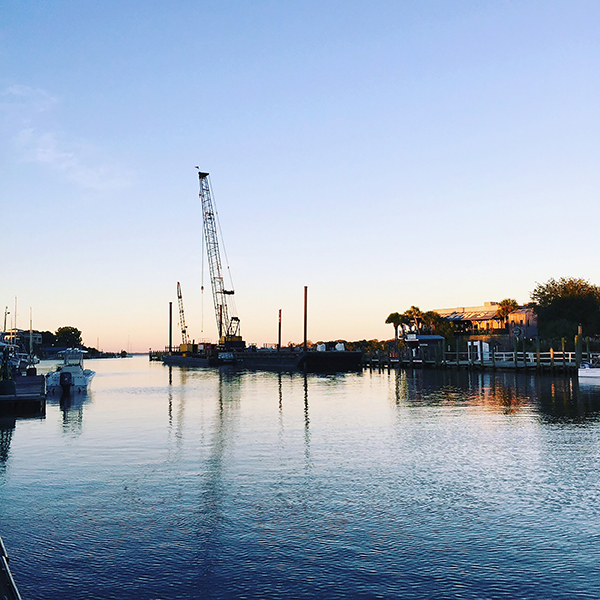 (Where the morning began, at a dock on Shem Creek.)