At Island Realty, you know that we are committed to helping you plan, book, and live out your dream vacation! And this weekend, we're committed to doing that at a major discount to you, so we've extended our 24-hour Black Friday and Cyber Monday sale into a 5-DAY Sale! If you're seeking some vacation inspiration, read up to see what special offers we have and how you can plan a trip to spend your time in the Lowcountry!
December 1 – 20: Rentals 20% Off
Whether you're cool as a cucumber this holiday season or feeling a little frazzled, a beach trip could be just what the doctor ordered. Get the whole family together and come down for a pre-Christmas visit, or take a weekend away just for yourself. Either way, while you're down here there's a ton of great activities to check out!
Be a part of the 2015 Isle of Palms Christmas Tree Lighting at the Holiday Street Festival on December 5!
Enjoy the holiday spirit and see the decorations in historic downtown Charleston!
Spend Hanukkah in the first place in North America where the holiday was celebrated.
See the Holiday Festival of Lights at the James Island County Park, ranked one of the Top 20 Events in the Southeast.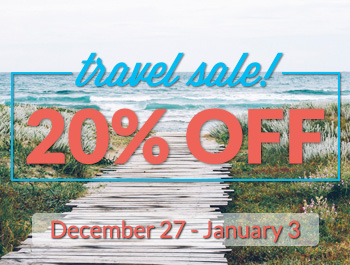 December 27 – January 3: Receive 20% Off
Got New Year's Eve plans yet? Now you do! With a stay at an Island Realty property, you can enjoy a low-key night in, watching the waves crash as you toast 2016, or one of the many rocking New Year's Eve parties in the Charleston area!
Ring in the New Year on the USS Yorktown!
Head to the champagne toast at The Windjammer on Front Beach at Isle of Palms!
Dive straight into 2016 at the Sullivan's Island Polar Plunge on New Year's Day, where a cool dip in the ocean will benefit the South Carolina Special Olympics!
Hire an Island Realty recommended private chef for the evening to cook all the New Year's classics!

January 4 – 31: Receive 25% Off
Surprise your family with an Island Realty beach getaway under the tree this year! Bring the brood down for trip to ease your way into the New Year.
Eat oysters to your heart's content at beautiful Boone Hall for the 33rd Annual Lowcountry Oyster Festival on January 31!
Enjoy all the delicious, local offerings of the Lowcountry during Charleston Restaurant Week from January 6 – 17!
Get toasty under a blanket while you take a carriage tour of historic downtown Charleston!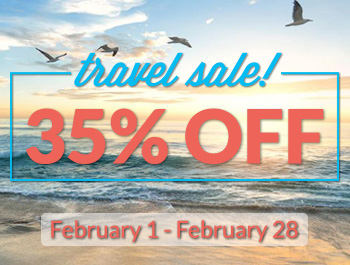 February 1 – 28: Receive 35% Off
Feeling freezing this February? With an average monthly high of 61 degrees, we can certainly solve that problem for you on Isle of Palms! With a bevy of different occasions and celebrations, February is the perfect time to plan an Island Realty vacation!
Bring your best friends down and throw a Super Bowl party they'll never forget on February 7!
Deck yourself out in your Mardi Gras finest and hit the town on Fat Tuesday!
Be among the 40,000 attendees at the Southeastern Wildlife Exposition, a three-day celebration of wildlife and nature going on from February 12 – 14!
Have a romantic dinner for two at one of the incredible area restaurants this Valentine's Day!

March 1 – 19: Receive 30% Off
Book your tickets now to eat your way around Charleston at the Charleston Wine & Food Festival, one of the biggest events in town. Taking place the first week of March, it's an event you won't want to miss—especially when your stay is 30% off!
Eat, drink, and be merry at the Charleston Wine & Food Fest March 4 – 8!
Don't get pinched! Wear green and celebrate St. Patrick's Day on March 17!
Take part in the first French Quarter Art Walk of the year and absorb the culture of the area on March 6!

April 5 – April 30: Receive 20% Off
Enjoy Spring in the Lowcountry this April! Whether it's a Spring Break trip with the family or a weekend getaway for two, you're sure to find what you're looking for at an Island Realty property.
Watch the serves at the Volvo Cars Open Tennis Tournament, running April 4 -12!
Sample local produce at the Charleston Farmer's Market every Saturday morning in Marion Square downtown!
Watch the Charleston Race Week International Sailboat Regatta on April 14!
Be a part of the Mount Pleasant Blessing of the Fleet & Seafood Festival on April 24 and celebrate the offerings of the water!

May 1 – 26: Receive 20% Off
As the school years are coming to a close and the summer is beginning, there's still time to sneak in a beach vacation before summer plans get in the way!
Take a fishing charter and see what you can catch inshore, nearshore, or even out in the Gulf Stream!
Tell mom you love her this Mother's Day by making her breakfast in bed (or on the beach!) on May 8!
Visit the North Charleston Arts Festival to see, hear, and experience some of the most talented local artists!
Sample amazing food and learn about a new culture at the Charleston Greek Festival May 6 – 8!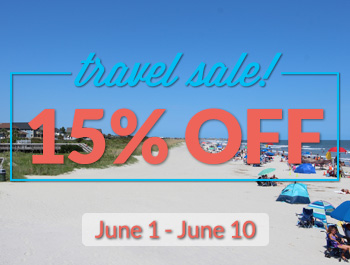 June 1 – 10: Receive 15% Off
An offer this good during one of the peak times of year at the beach doesn't come around often! Take advantage of this discount and start your summer off with a bang!
Feel the sun on your face the water crashing around you as you enjoy the beautiful South Carolina beaches!
Grab a drink at The Windjammer and sip in style overlooking the Atlantic!
Try standup paddleboarding for the first time!
Eat your way around Sullivan's Island with stops at Home Team BBQ and Poe's Tavern!