How do you get bookings?
Sometimes, new can be better.
You want to snag a reservation at the hot new restaurant. You want to get your hands on the latest New York Times bestseller. You want to rock the most of-the-moment fashion trends.
Sometimes, though, that restaurant is just unsatisfying. The book is overhyped. The cool new sweater is just itchy.
Sometimes, new isn't better.
Better is better.
At Island Realty, we attribute almost four decades of success to fully embracing market trends, while consistently providing unparalleled customer service. We can show you the difference between a property management company that is good for now, and one that has now been good for over 38 years.
How can we prove it? Yes, we have the satisfaction of long-standing homeowners and guests alike. And yes, we'd encourage you to reach out to them and hear what they have to say about Island Realty. But that's not all. We're so passionate about property management and confident in the methods we've developed here at Island Realty that every Friday we'll be giving out our best property management tips, tricks, and musings. If you are a homeowner or potential homeowner interested in renting out your home, we hope you find our Property Management Expert Series helpful.
---
Do you know how your vacation rental books?
Though it might sound obvious, at Island Realty we take information extremely seriously. We devote a great deal of time and effort to collecting as much information as we can from our homeowners, from our guests, and from our back-end analytic services. The data-mining we do makes it possible for us to make better, more informed decisions.
For example, we closely monitor and analyze the source of all of our home bookings.
Online Travel Agencies
You've likely heard about online travel agencies (OTAs). Online travel agencies, like VRBO, Homeaway, and AirBnb, give consumers direct access to a wide variety of vacation rentals that a property manager can post on behalf of an owner or that an owner can post directly. OTAs have revolutionized the vacation-rental industry--not entirely for the better.
With the rise in popularity of OTAs, vacation-rental owners and potential owners often think they can go without a property manager to market, and ultimately book, their property. Alternately, they use the services of inexperienced, quasi property managers who simply charge fees to get bookings on online travel agencies for owners.
These homeowners and managers might not be aware of some impending regulations on these sites, though. For instance, Homeaway is about to institute a 'traveler's fee' which will average around 6 percent of the booking price. This cost will be put onto the consumer, meaning OTA users will end up paying more money for the same rental! It's likely going to make them very wary of using these types of sites.
What can you do?
If you are self-managing your property, or thinking about self-managing your property, consider hiring a professional property management team instead. A professional property manager can widen the scope of potential renters you are reaching through channels beyond OTAs.
If you do already have a property manager for your vacation rental, we encourage you to find out what percentage of your rental bookings are coming through these online travel agencies. It's likely you'll find that many property managers aren't' even keeping track of those statistics.
What is Island Realty doing?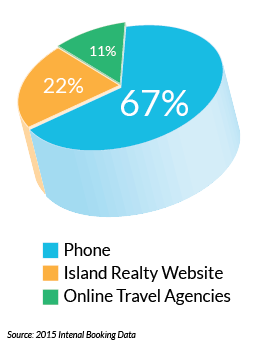 At Island Realty, not only are we actively tracking these numbers, we're also happy to share our results with you. While we recognize the trend of OTAs and gladly use them as a resource, bookings through these platforms make up only a minority of our bookings. Our own website, one of the most advanced in the industry, has double the amount of bookings come directly through it. What we expect surprises many people who see these numbers is that over two thirds of our bookings come through phone conversations with our in-house team of vacation planners.

We truly take the time to listen to the needs and desires of renters and answer all of their questions. A home rental can easily come in at over $10,000 – it's no shock people want to talk to a human being before spending that amount of money!
What does this information tell you?
It tells you that Island Realty's proven method of personalized service is what keeps guests booking directly with us year after year.
It might seem cost-effective to self-manage your property at first and rely on OTAs. But in reality, not only can we guarantee more bookings for you, we can also optimize your rental rates using hard-data and a professional team of owner representatives whose job it is to make you the most money and maintain the integrity of your home.
You can see for yourself—just look at the information! We know we will.