ISLE OF PALMS VACATION RENTALS
Isle of Palms is an idyllic island town, separated from the mainland by the Intracoastal Waterway. Located just 12 miles from the excitement of downtown Charleston, Isle of Palms is a perpetually relaxing beach community. Due to its unique mix of both vacation rentals and permanent residences, Isle of Palms maintains a strong sense of community. Every vacation rental visitor is immediately accepted as a member of this community.
Isle of Palms Activities
Isle of Palms visitors are easily able to stay busy throughout the year with plenty of things to do, local festivals and events to attend, activities to try, unique shops, delicious restaurants, and nightlife. Of course, spending time at the Isle of Palms beach is one of the most popular pastimes for visitors and locals alike. IOP is easy to navigate by bike or golf cart, both of which can be rented through Island Realty's in-house concierge. Our concierge team can also set up all members of your vacation party with boat tours, fishing excursions, or a host of other activities.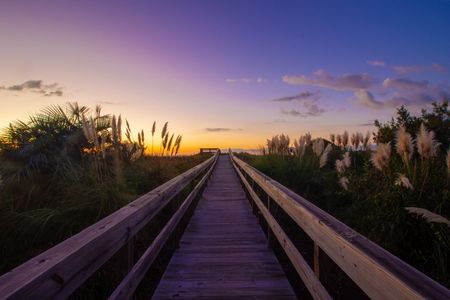 Wild Dunes on Isle of Palms
Should you be interested in a round of golf, Isle of Palms is home to Wild Dunes, a 1,600-acre gated community which has two of the finest golf courses in the Southeast. Our concierge can help you arrange golf outings on the Wild Dunes Links or Wild Dunes Harbor Course. Island Realty has many Isle of Palms vacation rentals, ranging from one-bedroom condos to expansive five-bedroom, oceanfront homes within the Wild Dunes community.
Isle of Palms Beaches
Whether you are enjoying a vacation rental in Wild Dunes or elsewhere on the island, or if you are visiting Isle of Palms beach to relax and rejuvenate, you'll find no better way to do it than to spend some time on the gorgeous, white-sand beaches. The Isle of Palms beaches are seemingly endless. The island's size mean that whether your accommodations are on the oceanfront or not, you're never far from the Atlantic.
If you have an interest in marine life, Isle of Palms is home to a large number of turtles, which nest during summer months. Isle of Palms beach visitors can sometimes spot sea turtles on the beach! Their nests, which are carefully monitored by our own "Turtle Team", are a unique attraction to the island. Should you be interested in seeing more marine animals, speak with our concierge about a special rate at the South Carolina Aquarium in downtown Charleston. The Aquarium includes a Sea Turtle Hospital to rehabilitate injured or sick turtles before releasing them back into their natural habitat.
Some visitors swear by spending holidays on Isle of Palms in an Island Realty vacation rental. Our guests love the holiday cheer our staff imparts during their stay, and the ease with which they can spend the holiday. Our Isle of Palm vacation rentals range greatly in size, so it can be an intimate affair or a whole family gathering. The island is beautiful throughout the holiday season, with mild temperatures and lovely decorations set out by the community.
Quite simply, Isle of Palms has everything that you and your family are looking for in a beach vacation! And Island Realty has everything you are looking for in a beach vacation rental!
---
---